This site records the locations of all surviving Buckinghamshire county boundary markers found by John Nicholls on his travels. As for Berkshire, many (14) are made of cast iron and are of identical 'lollipop' form, perhaps dating from the 1930s. In contrast to Berkshire though, there are also a significant number of boundary stones set into the stucture of the larger bridges, some of them quite old. The earliest can be found at Ickford Bridge on the border with Oxfordshire. At the other extreme, the boundary with Hertfordshire is marked by modern concrete blocks unlikely to excite much admiration.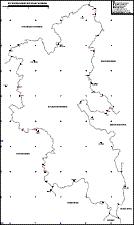 See the boundary marker map which acts as an index to the markers.
There are also images and locations of all the markers and information about them.
Or return to the Contents Page.